Scarfs of lovely crochet
I've been crocheting for about 2 years now. It was a skill I learned when I needed some nice gifts for Christmas one year and also something not messy and productive to do while taking calls in a call center. I've made all sorts of thing since then. Some of the things have been for my little family, but a lot were gifts. Sadly, I have no photos of the gift ones. I do however, have photos of the scarfs I made for my daughter, husband and me.
The 1st scarf I ever made was using a bat pattern for filet crochet from
Stitch N' Bitch Crochet: The Happy Hooker
. It is made with Caron Simply Soft Brites in Watermelon.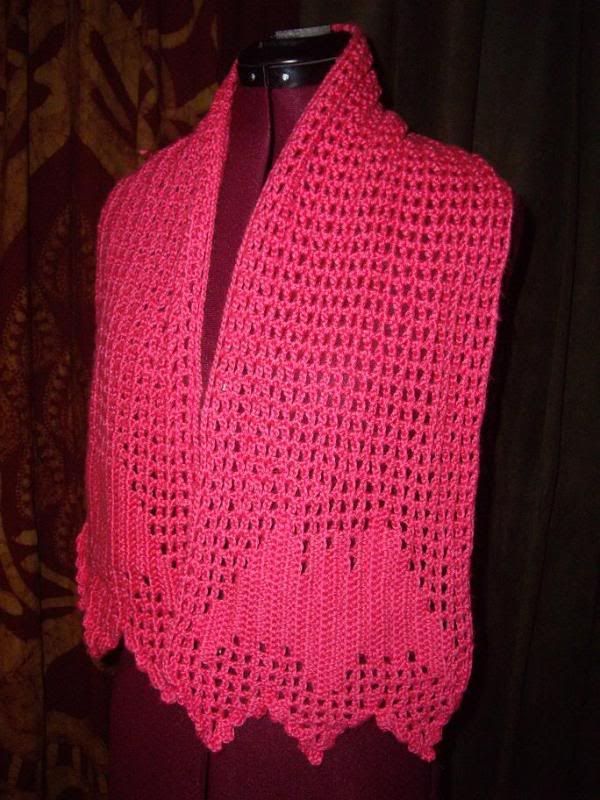 This is a heart design that I made for my daughter. The main body of the scarf is made using double crochet, but the heart and ends are made with filet crochet. I made this one using Caron Simply Soft in Embroidery Print. This was my 1st pattern that I made myself. My daughter is happy with it, but if I made another, I would do it differently.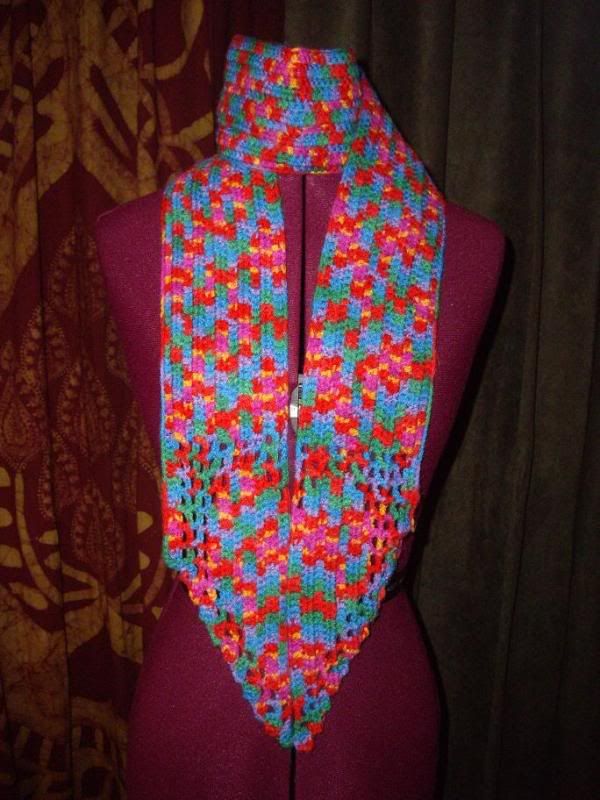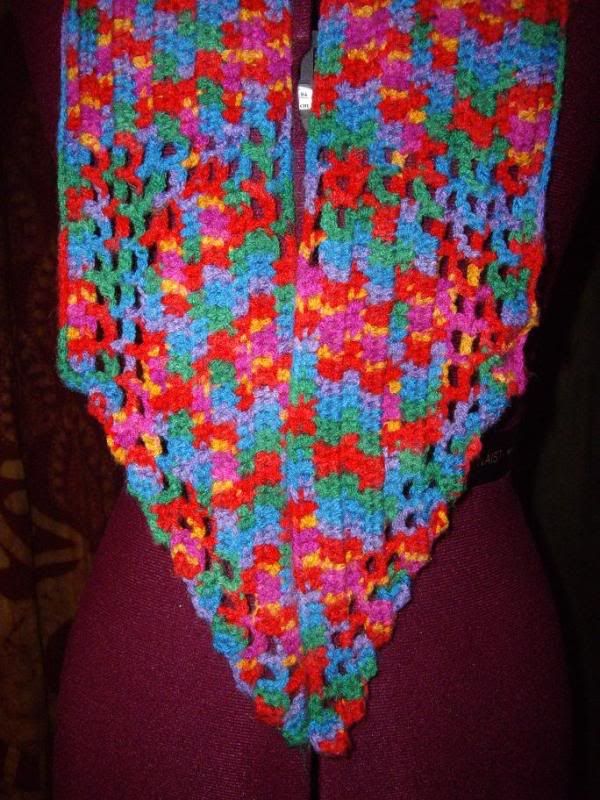 This is the next scarf that I designed. The spider is a black widow. This is a very intricate pattern and took a while to complete, but was worth the extra effort. This was also done in filet crochet, so I could get the desired pattern. I used Red Heart yarn in Royal.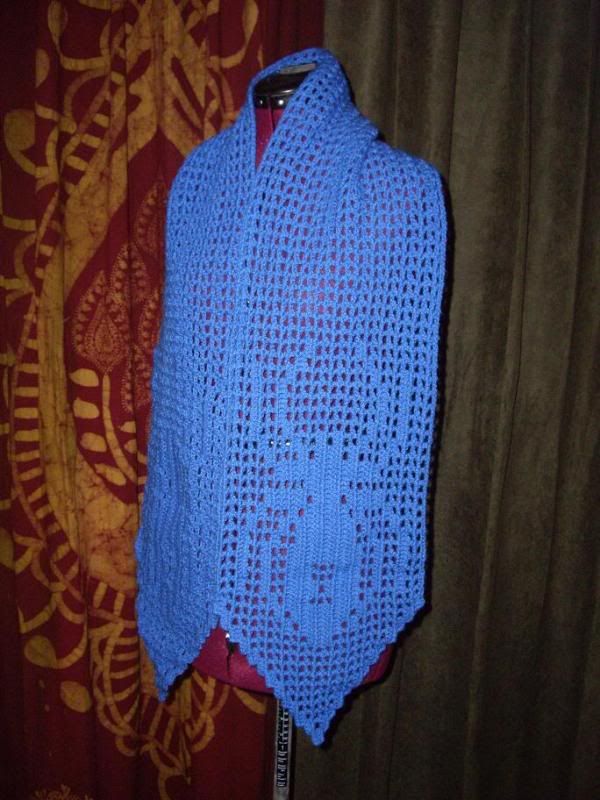 This is the most recent filet crochet scarf I completed. I was inspired by Noah Scalin's
Skull-A-Day
project. I've been fortunate enough to have meet Noah on a couple occasions and spoken to him a few times online. I designed this one off of a pattern someone else had used for embroidery. I altered it to my liking. Both filet crochet and embroidery patterns use a graph, so it was easy to manipulate the other pattern into one that better suited the image I wanted. I crocheted most of this scarf during the 15 hours of riding in a car during our summer vacation from RVA to GA to NOLA and back. I needed something to keep my occupied, so this worked. I used
Caron Simply Soft Eco
in Charcoal.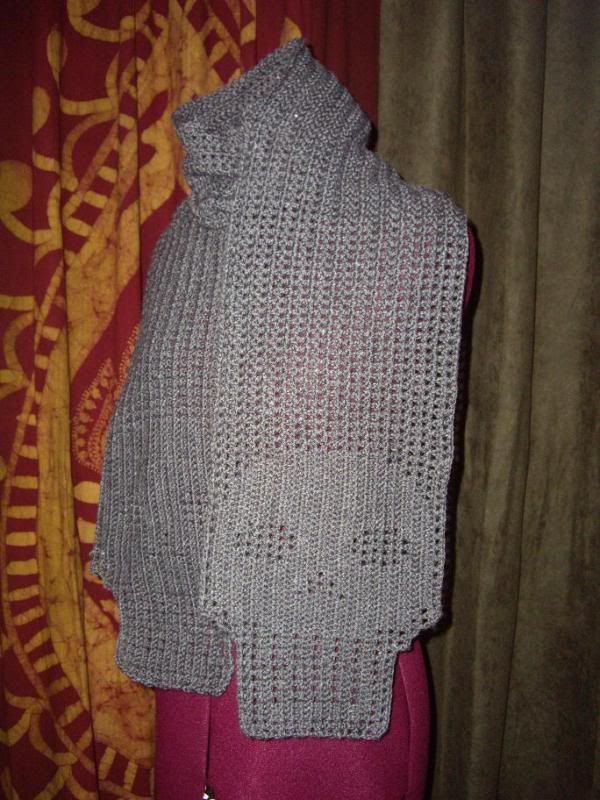 I had made a purple version (1 color purple for the puff stitches and another color purple for the scallop stitch) of this scarf for my grandmother and loved the stitches that I used, so I used them to make a striped version. The puff stitch is a rather easy stitch, but it does take some practice to make sure you don't forget to finish it correctly...which I had to fix several times.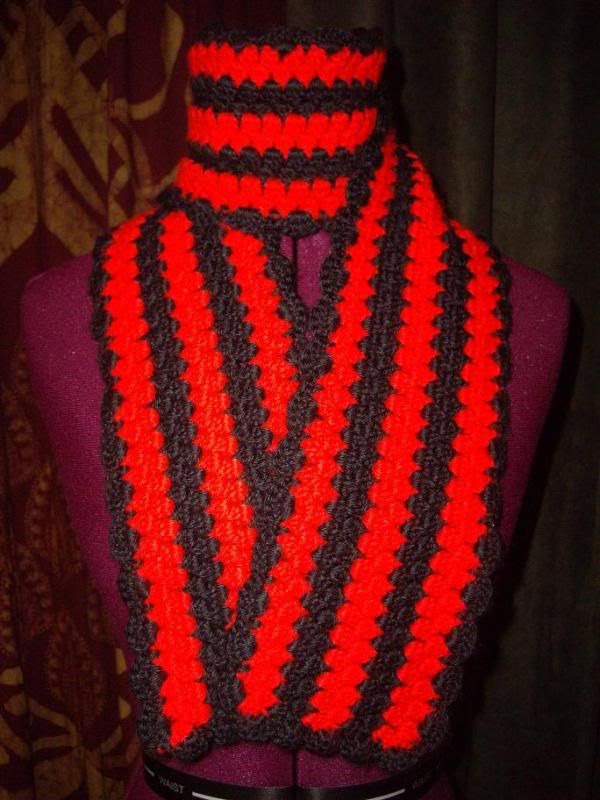 My daughter wanted me to make her another scarf, but she requested a skinny scarf. I let her pick the yarn out of my stash and the stitch she wanted (popcorn stitch for the body with single crochet around the edge). She chose a pink and purple yarn made by Red Heart and Caron Simply Soft in violet.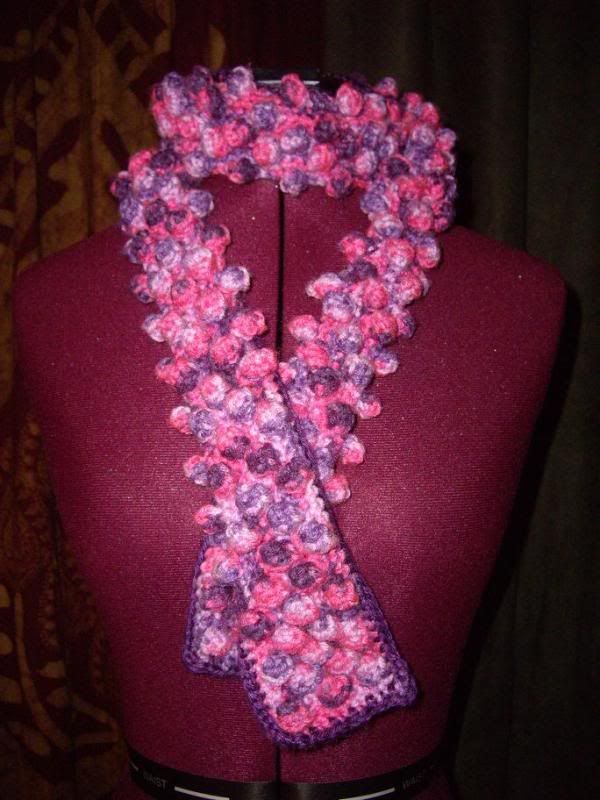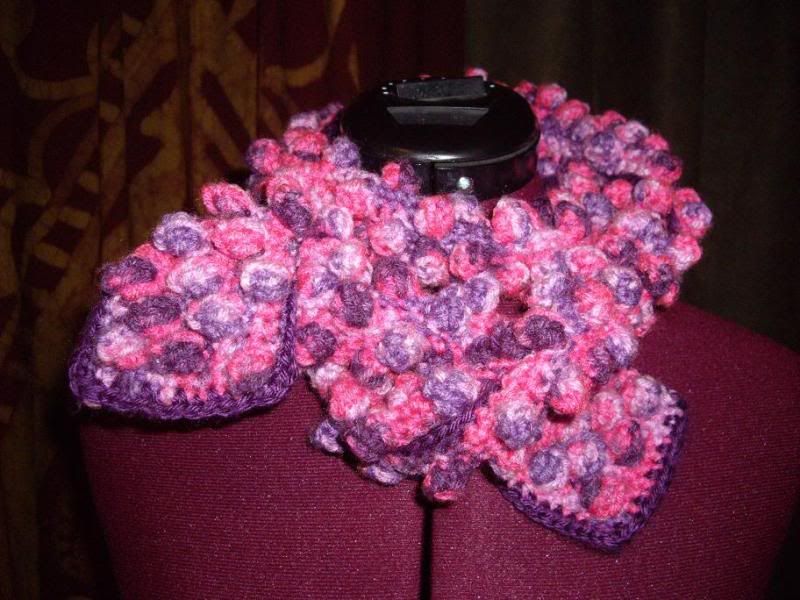 I decided I needed a "matching" scarf. I used the same yarn as hers. I used a puff stitch and a shell stitch for mine.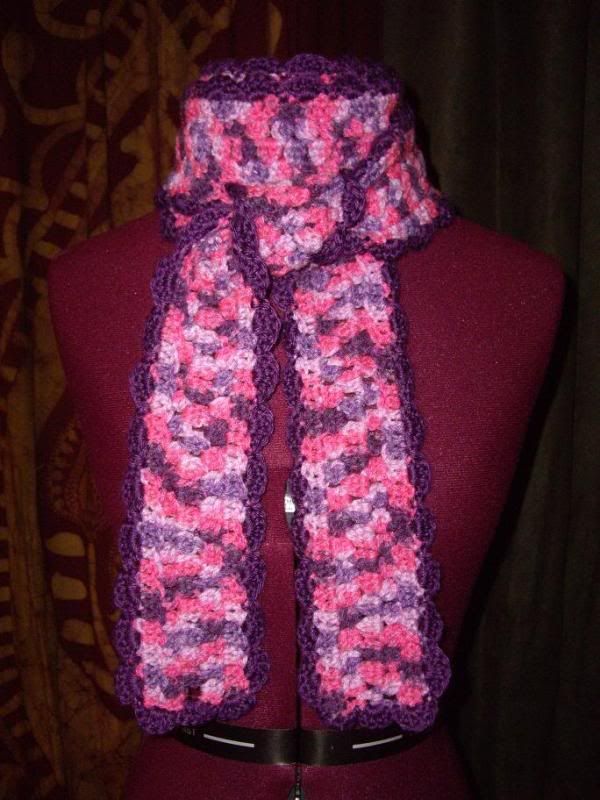 This is a HUGE scarf. I like to refer to it as a monster ruffle scarf. It was a project gone awry. I didn't intend for it to be as long as it is, but I think the weight of the ruffles has made it stretch longer than the size it started at. It reminds me of a large
neck ruff
or lettuce that has eaten your head. I made it with many skeins of Caron Simply Soft Bites in Limelight. I used double crochet and just a hint of insanity to make this scarf.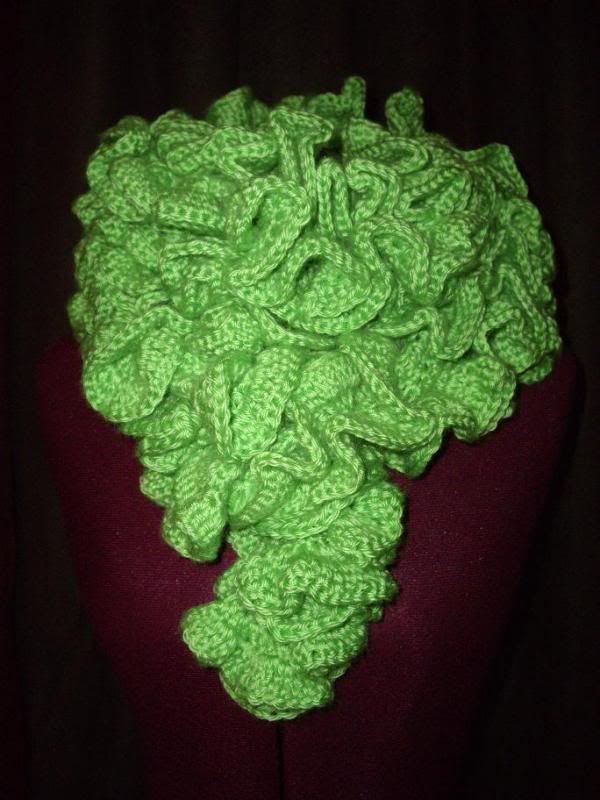 I'm am currently working on a four other scarfs. They are all works in progress as I keep on getting distracted by a new technique or fiber. I rarely make any scarf twice. The red and black striped, matching candy, and my grandmothers purple one are the only one that have used the exact same stitches in the same way (minus the striping effect). I like to refer to my scarfs as prototypes.
UPDATE:
After this post was made, I made more filet crochet pieces and wrote tutorials for them.
#1 and #2 were made as part of my
Dia de la Abby
project for
Skull-A-Day
. #3 was inspired by Skull-A-Day, but was made because I wanted a skull and grey scarf.
Tutorial
for #1
Related Skull-A-Day post -
Filet Crochet Scarf
Tutorial for #2 and #3
#2 - Related Skull-A-Day post -
Tessellation Skull Scarf