Future Tattoos...
This is something that I've written about before on a different journal, but I want to revisit it in a way. For those of you who don't know, I got my 1st and only tattoo on June 9, 2009 (1 day before my 29th b-day).


This design was inspired by a female tiger swallowtail butterfly. The tiger swallowtail butterfly is the Virginia State Butterfly. I live in Richmond, Virginia. To me a butterfly represents freedom. To say it in the best way, I've had a chaotic life, so freedom is something I really need in my life.



Before I ever got my 1st one, I already had a general plan for more tattoos. My next one is probably the easiest one that I chose. This is mainly because I didn't have to design it and as soon as I saw it, I knew I needed it on my body. This is a cut paper piece by a local artist named Noah Scalin who created a very successful blog called Skull-A-Day. This piece is for Edgar Allan Poe. I have loved Edgar Allan Poe since I was 1st introduced to him as a child. He is the father of the detective story. I am a huge fan of mystery and the macabre. The Raven in the piece is of course for the poem The Raven, however a Raven also has meaning in mythology. To me a Skull represents death, to be thankful for life and remember your ancestry. I plan on getting this on my left upper arm.
I've wanted a large back piece for about 10 years now. After much thought, I decided I would get a pair of classic Greco-Roman wings. The design will cover my back from my shoulders to my lower back right before my butt. My best friend
Kit McSmash
wants to design them. I don't know when I'm going to get them. This is an idea of what look I'm going for.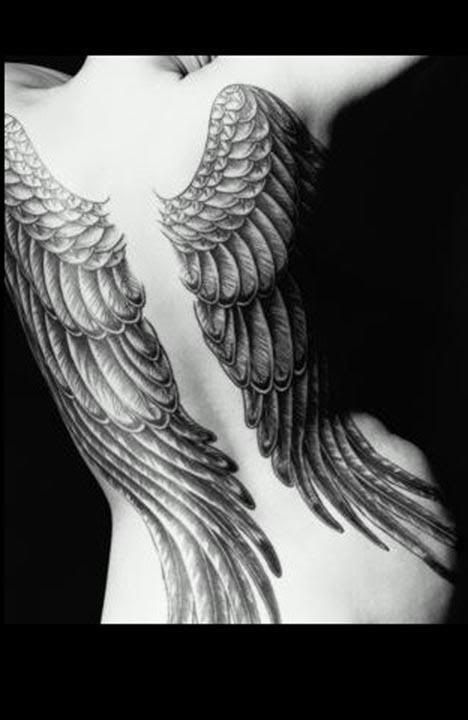 There are a few other pieces I want, but these are the only ones that I'm set on getting. A few of the other idea have been a Luna Moth somewhere on my body using UV ink. I was thinking my stomach, but since the only way you would see the tattoo is with a black light and my stomach rarely shows, this would not be the best place for it. It's likely to be on the other side of my chest beside the existing butterfly. I've also considered getting a foot tattoo of a butterfly, but that was an idea I thought of before I got the chest tattoo, so that might be too many butterflies. I might get my favorite flower, a Tiger Lily, instead because it would represent my mom. She used to grow them in a garden by the house. I've also considered a silhouette of my daughter in a cameo that I was considering getting on my left upper arm, so she would be close to my heart. I planned get the "Quoth the Raven" piece on my right upper arm, but my right arm has all these great freckles that the black design would cover up and my left arm doesn't. So, instead the "Quoth the Raven" black piece will go on my left arm and nothing will go over all my lovely freckles on my right arm. I considered getting an charm anklet on one of my ankles, but that is really bony place and after getting my 1st tattoo near my collar bone that idea was out.