Modern needlepoint
My daughter turned 6 in May. She is an suburb artist, skilled in jewelry making (stretch bracelets, rings and necklaces), painting (acrylics of whatever), and drawing (of whatever). I am well skilled at sewing (all aspects), jewelry making (wire wrap) and crochet. I was taught to sew at a young age. I started doing needlepoint at about my daughter's age. It was during a semi-annual visit from my grandmother and great aunt that they decided it was time that I learn. My great aunt used to make all sorts of little needlepoint things...mostly gifts and decorations. I wish I still had some of them. Anyway, after I learned how to needlepoint, I moved on to hand sewing/embroidery, then machine sewing and eventually got my college degree in Fashion Design. I'm not leading my daughter towards Fashion Design, but I do plan on teaching her all the skills I have because I think she deserves to have a vast range of useful skills. Also, a large amount of my family members know how to sew, so it's a given that she will learn that too.
My dad is especially excited that I'm teaching her and the way in which I plan to teach her what I know...needlepoint, embroidery, hand sewing, machine stitching, project design...etc. I know it sounds odd for a guy to be excited about that type of stuff...a guy who is a veteran Marine of Vietnam for that matter..., but his mom made all her kids (3 boys and 1 girl) learn how to sew. He also knows how to knit...which he just recently told me and would like me to hand over my knitting machine that I was unable to get to work. He wants to make scarfs or something. I must remember to give that to him. Anyway, he is more excited that my mom is. I think that is cool and I can imagine him know teaching her (and me) how to knit as well as assisting her on embroidery projects. He has this pretty pillow he made with 2 horses on it. Both him and 1 brother made ones. I think it is very neat.
I bought Alex (Alexzandria), my daughter, a needlepoint kit like most parents would. It looked like a good idea until we started doing it. I do mean "WE" because well she is just learning, so the weird places in the design have been done by me. The kit comes with a printed plastic canvas (a butterfly), matching yarn, a plastic needle, the wrong instructions (which I promptly ditched) and a plastic frame. The butterfly is printed centered on the holes vs the intersections, so the stitching of the design has become quiet wonky and off. It's frustrating for me, but more frustrating for my daughter because I keep having to borrow her canvas to work thorough the poorly designed bits. Then it hit me, why not finish this wonky butterfly, save it (It will be cute later when she is older...heck it's cute now.), and make our own project that is more modern, geometrical and overall simpler to accomplish without sacrificing style. So, I started looking up modern canvas designs.
I already have some blank canvases upstairs and plenty of yarn. Though getting some sturdier yarn will be better, I just have soft yarn reserved for scarfs and tactile projects that will rest aside skin for longer than the completion of a project. So, this is the part where I include pictures of my wonderful finds with artist credits. Call it a visual brain storm...
Carrie Wolf
http://carriewolf.net/
ModernNeedlepoint on Etsy
Black Berry purse
Nicole Gastonguay
http://nicolegastonguay.com/
Shrimp Lo Mein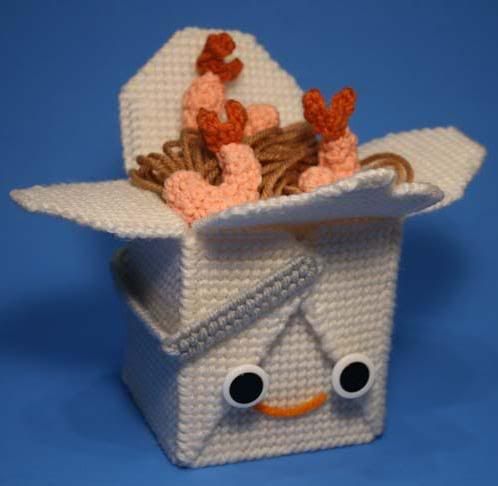 Sardines
TV Dinner
Modern Dose
http://www.moderndose.com/
Link Pillow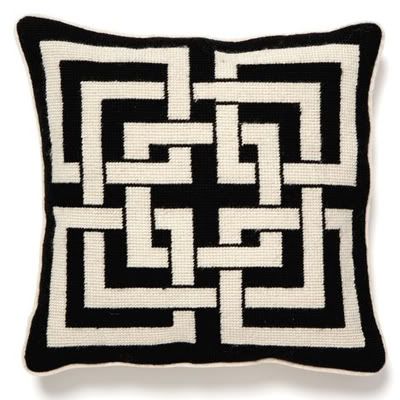 123 Creations
http://www.123creations.com/
Blue Dot Armchair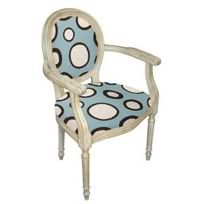 Jonathan Adler
http://www.jonathanadler.com/
Bricks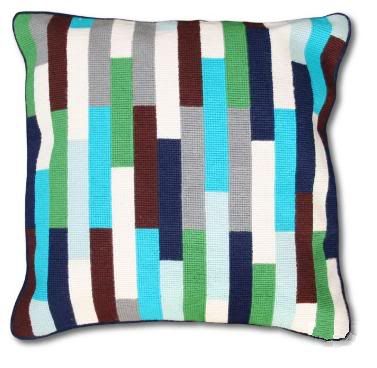 mp3 case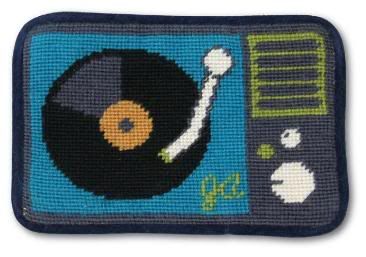 We are finishing up our butterfly with gusto and lots of redoing stitches. First timers don't always make the back look pretty along with the front.
Love,
Abby